How to Ask
By Taylor Jones|Follow Her On Twitter HERE
How To Ask Your Sugar Daddy For What You Want
…And Get It!
Becoming A Successful Sugar Baby Isn't Down To Luck…
…It All Comes Down To This Powerful Sugar Daddy Dating Formula!
If you're not entirely satisfied with your Sugar Daddy dating experience, there's no need to worry. We are here to share the secrets to our success and the key to living the lifestyle you want.
You're about to learn techniques that most Sugar Babies will never know about: How to Ask for what you want from your Sugar Daddy AND get it!
In this Special Report, you'll find out what's stopping you from getting exactly what you want from your Sugar Daddy.
This report utilizes both personal experience and ground-breaking research to teach Sugar Babies at all levels of the game these tantalizing techniques and secrets:
How to portray yourself as a confident and successful Sugar Baby
How to stop hunting Sugar Daddies and instead make them flock to you
A simple 3-step process, based on trust and timing, for asking for what you want
How to gain the upper hand and take control of your Sugar Daddy relationship
A proven 5-step process that will guide you to getting what you want
This in-demand report answers every question you could ever have about being a Sugar Baby, whether you're new to the game or an experienced Sugar Baby.
Sugar Daddies will not change.
They will not just start handing you whatever you want simply because you want to be their Sugar Baby. The only thing you can change to start getting what you want is found inside this Special Report. This report is absolutely stuffed with the tips, techniques and tricks you need to have any Sugar Daddy falling at your feet with gifts, money and anything your heart desires!
You Want It –


And This Special Report
Will Teach You How To Get It.
Here's What Other Sugar Babies
Are Saying AbouIt it…
Unleash Your Own
Sugar Daddy Dating
Potential Today!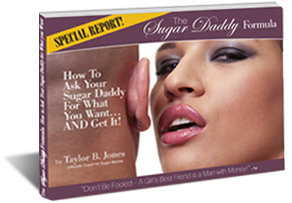 Price: $9.99 $5.00
Don't believe me? Download the Special Report and see for yourself – it will absolutely change the way you approach every facet of your Sugar Daddy relationship.
Guaranteed.
I will show you a system for getting what you want and making it work for you—the same system I use to get what I want from my Sugar Daddy. Here's your opportunity – get it now!
Don't wait! Get what you want and get it NOW! I have done all the work to get you
started, so now all you have to do is read this report and benefit from my expertise.