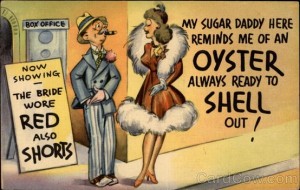 Have you ever found yourself falling for a Sugar Daddy you wanted get to know better…
Only to find yourself sleeping with him before an arrangement has been made?
It's an unfortunate but common occurrence within the world of Sugar Daddy dating…
But if you want to become a successful Sugar Baby, you MUST avoid falling into this trap.
Focusing on what a Sugar Daddy wants and ingratiating yourself in this way may feel like the natural thing to do, but it's the worst way to try to make a Sugar Daddy fall for you.
Being "nice" and "understanding" and "a good sport" won't get you where you want to go.
If you want to get to where you need to be, embrace this tip: don't give a Sugar Daddy more than he gives you.
Most of us only know how to give. We give for lots of reasons – because we're taught that's the way to get to attract a man (it isn't), and because deep down, it feels uncomfortable asking for what you want and you allow your potential Sugar Daddy to put the value on the relationship.
But Sugar Daddies can't read your mind.
Reread that: Sugar Daddies can't read your mind.
Just because they are on a Sugar Daddy site doesn't mean they automatically know what it is that you want.
You want to inspire his emotional desire for you. Allow your potential Sugar Daddy to prove himself to YOU.
Don't feel compelled to have sex with a Sugar Daddy in hopes of receiving things, only to end up waiting by the phone or checking your email to see if he reached out to you.
To advance your Sugar Daddy relationship, he needs to woo you.
And believe me: you're worth wooing.