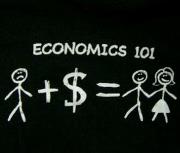 One of the easiest ways of being successful with Sugar Daddies is to figure out what it is that they are seeking.
Once you find out what Sugar Daddies want from you, you then have the power to fill in that void – and get them to constantly crave you.
So what do I mean by void?
When I say "void", I mean whatever it is that your Sugar Daddies are missing from their lives. Even the most powerful and wealthy men on the planet miss something from their lives – and once you find it out, you have the power to make Sugar Daddies fall head over heels for you.
Now that you know this piece of valuable advice, there's only one question remaining:
How do you figure out what that void is?
In order to figure out just what that void is, here's what I want you to do next:
I want you to brainstorm how you can implement the "What are missing out of your life?" question. Remember, don't just copy what I do. Adapt it to your own Sugar Baby personality.
Then, if you plan to use this tactic (or already have used it), leave a comment and tell me about it.
Finally, if you haven't subscribed to the Sugar Daddy Formula Newsletter, go do that now. I've got a new article coming soon, and if you're not subscribed you may miss it. And trust me, you don't want to miss my next issue. It may be the best one yet.
Remember: No matter what you do, you're in the business of controlling your Sugar Daddy's behavior.
If you're looking for Sugar Daddies to provide you what it is that you are seeking, you've got to get your target Sugar Daddies to trust you.
And if you're looking to improve yourself on a personal level, you've got to change your own behavior.
The question is, what's the secret to changing behavior?
Finding Quality Sugar Daddies Is That Easy, But…
…You have to take action on this advice.
When I first shared this tactic a month ago, you had the opportunity to implement it.
Did you?
(My content contains no fluff. Just concrete Sugar Daddy Dating advice)
But how about you?
What's holding you back? Email me: SugarBabyCoach@gmail.com
Remember this:
In the end, writing a profile that generates quality responses from Sugar Daddies is possible… even in an overcrowded place filled with competitive Sugar Babies.
But you've got to take action.