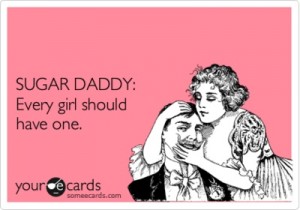 Today, I want to talk with you about finding your Sugar Daddy.
You may be a bit confused by this opening statement – after all, isn't the whole point of a Sugar Daddy Dating site to help you finally find your Sugar Daddy?
Of course. But I definitely want this article to be more focused on the actual act of finding a mature, generous, and downright awesome Sugar Daddy.
So what inspired this, you might ask? Simple: I hear from Sugar Babies every day who are struggling to find their perfect Sugar Daddy. Here are three excerpts from recent emails:
"I find that I am at the point where I'm about to give up looking for my dream Sugar Daddy. I have no idea what to put in my profile, and it's really impacting the quality of men I'm finding online."
– Ashley
"How do I know if a Sugar Daddy is genuine? Or right for me? How can I make an arrangement that we're both happy with?"
– Fran B.
"I have NO idea how to ask for what I want from my Sugar Daddy. How can I do it without underselling myself?"
– Trisha
So the three main points are:

· "Help, With what I don't want to put in my profile!"
· "I don't know how to setup an arrangement"
· "I don't know how to ask for what I want"
It all sounds familiar, doesn't it?
Let's explore those emails in-depth – and how these Sugar Babies are preventing themselves from finding their dream Sugar Daddies.

Re-read the emails above. Notice any commonalities between them?
That's right. In one way or another, they all have one thing in common: ME.
These Sugar Babies are so focused on themselves that they've forgotten a truly vital component to finding their perfect Sugar Daddy: focus on him! Few of these Sugar Babies ever realize that finding the Sugar Daddy involves focusing on other people. They're so driven by their own needs that they don't take the time to think about what potential Sugar Daddies want.
Sugar Babies do this because they're often content to "wait" to be discovered by their dream Sugar Daddies. And speaking of waiting, that brings me to my second point:
These emails all involve passive waiting.
"I don't know…", "I need to find…", and "How do I…" is just code for "I am doing nothing productive to discover the answers to my questions.
Many Sugar Babies approach finding their dream Sugar Daddies in a passive way. After all, they don't know any other way. They simply upload their profiles, and sit back with their fingers crossed, hoping against hope that the perfect Sugar Daddy will somehow fall into their laps.
Look, no one expects you to suddenly become a master at finding perfect Sugar Daddies right off the bat…but I DO expect you to take steps towards it. Otherwise, you're just like the hordes of other Sugar Babies who'd rather take a passive approach and wait for their dream Sugar Daddies to fall from the sky.
Is that likely?
Has that worked out for you yet?
Of course not – you wouldn't be reading this article if it had!

The code to finding your Sugar Daddy is simple:
Most of us operate with the Invisible Script that we're waiting for our Sugar Daddy to somehow appear because we posted our profile on a sugar daddy dating site. That's why we use code words like "I need to find…" and "I really want to…" instead of the words that top Sugar Babies use: "I'm so excited about ___" and "I'm learning a ton."
I have a different view of finding your dream Sugar Daddy. It's a messy, circuitous process. You have to dig through cobwebs and explore a kaleidoscope of patterns, getting your hands dirty in the process of discovery. It's like shopping at Ross.
Compare this to the dainty idea most of us have of waiting under a parasol for the rain clouds to clear and a ray of passion to warm our bodies. Not going to happen.