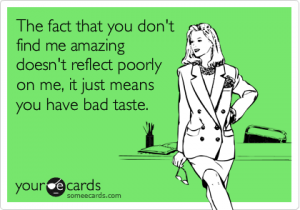 I had a friend who looked to be a promising Sugar Baby. She was bright, witty, intelligent, and classy – all the characteristics Sugar Daddies look for. She had a good head on her shoulders, and she was prepared to do the work to find her perfect Sugar Daddy.
She thought she found him – but after a few dates, when she tried to discuss financial arrangements with him, he shot her down.
Thanks to this rejection, she immediately withdrew from the Sugar Baby world – and it took her a long time to work up the strength to dive back in again.
Why am I telling you this? For one simple reason: too many Sugar Babies let themselves get thrown off by Sugar Daddy rejection. They think that failure is a bad thing, and that they'll never be the best Sugar Babies they want to be.
However, this is exactly the wrong way to approach Sugar Baby failure. In fact, I want to point out that failure should be planned for and even eagerly anticipated. I know that if I haven't been rejected by a few Sugar Daddies in my past, then I haven't done enough to truly learn on my Sugar Baby journey.
The bottom line is that rejection is a normal part of the Sugar Baby process. Expect it. Manage it. Own it.
The trick is to prepare for failure before you even get rejected. Think of it as applying to college: you wouldn't just apply to your dream college and hope for the best, would you? Of course not. You'd spread out your options.
And that's exactly what you need to do with Sugar Daddy dating. Don't pin all your hopes on one man right in the beginning. You hold the cards. You have the power. Date as few or as many Sugar Daddies as what makes you feel comfortable. That way, should you encounter rejection, you'll already have a horde of other Sugar Daddies waiting to make you feel like the queen you are.
Whining and bashing the Sugar Daddy who rejected you is a great way to get stuck in the cycle of failure. It's just another way of protecting your ego – and there's no way you can possibly learn what you need to learn to become your best Sugar Baby possible.
It's easy to get angry at rejection.
It's easy to get sad about rejection.
But it's also easy to come up with a Plan B for rejection – and that's exactly where my above advice comes into play.
So what would you rather do: let failure knock you down, or eagerly learn from the experiences to become the best Sugar Baby possible?
I think the answer to that question is clear.
How have you used rejection to improve your Sugar Daddy dating experience?