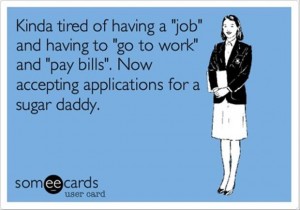 It's okay to admit it: you have no idea what you're doing.
Do you have more questions than answers?
There. Doesn't that revelation make you feel so much better?
Acknowledging that you're not sure what you're doing is the first step towards a successful and fulfilling Sugar Baby journey. And now I'm going to help you take that next step to help you realize what you want.
The first step of your Sugar Baby journey – after admitting you're not sure what to do, of course! – is to acknowledge your goals and intentions. What do you want out of your Sugar Baby experience?
What do you want out of this lifestyle?
What IS your dream lifestyle?
How will your Sugar Daddy connect you to a better lifestyle?
Write these goals down. Pin them up on your bathroom mirror. Keep them around at all times – because you'll always need to be reminded of what you want from your Sugar Baby journey.
Now that you have a better idea of what your goals are, you're going to want to align them with the Sugar Daddy you want. Remember: not all Sugar Daddies are equal, and you're going to want to find the right one for you.
So go ahead and get on that Sugar Daddy dating website. Find a few profiles that really catch your eye.
Now that you've narrowed down your dream Sugar Daddy, you'll want to craft your online profile to appeal directly to him.
Never underestimate the power of your words.
Your Profile tells a story.
You want to tell a story with your personal ad and capture their attention to want to get to know you.
Your Sugar Baby Profile is NOT about you. It's about capturing the mind of the Sugar Daddy You Want. Tweet This
Once you've got his attention, you'll need to set up the date with your Sugar Daddy, build up his trust, and sustain your Sugar Daddy relationship. But those are for different articles – right now, you need to focus on getting your dream Sugar Daddy's attention.
So ask yourself: what are your goals? How do you see this lifestyle going for you? What are you truly willing to invest in your Sugar Baby journey? What are you going to do about it?