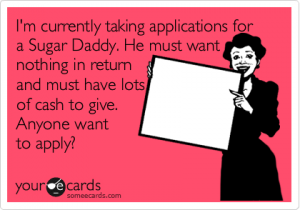 I know for many of you, the title of this article probably made you stand up and cheer.
Writing can be awful.
Before I started the Formula, writing used to give me flashbacks of 10th grade English class, with Mrs. Robins standing over my desk, barking out tons of grammar rules that just completely passed over my head.
And I know I'm not alone in this feeling.
Just take a look at an example email I've received from Sugar Babies:
* * * * * * * * *
Taylor,
I think your Sugar Baby Survival Kit is great and I have a super idea for a Sugar Baby Profile that I know would bring me tons of quality Sugar Daddies. One problem: I HATE writing.
Can I hire you to write my profile for me?
* * * * * * * * *
Now I LOVE to write. And believe me, it's a good thing I do. I write all the time: newsletters, emails, blog posts, eBooks, even texting.
So sometimes I forget: not everyone loves to write.
But writing is so crucial to capturing the attention of your dream Sugar Daddy.
Your words are an extension of you – and they need to show your Sugar Daddy that you're interesting, exciting, and absolutely intriguing.
Intimidating, isn't it?
I know you're expecting me to say to practice writing your profile out until it sounds pitch perfect.
Or to just grin and bear it.
But guess what? If you hate writing – don't do it.
"Taylor's 80/20 Rule" says spend ALL your time doing those "20% things" that bring you "80% returns".
If writing is NOT one of those things for you…hire somebody else to do it… and get back to doing what you do best.
And while I don't write profiles for anyone but myself, our Sugar Daddy Profile Writers does. Visit them here.